---
So I've finally got these Milos painted and boxed. I'm sure some of you remember me posting a long time ago about the process of creating these, and it's mostly been so long since then because of life changes. Since the first time I posted about them I've had a bunch of crazy family stuff happen, and then I fell in love and planned a wedding and got married and went on a honeymoon (to Hawaii, which was crazy awesome!) But there's been a through-line of Milo in all of that, and since I met my wife, she has been encouraging me to keep doing it. She's one of the main reasons I actually got down to making a Milo comic strip, and the strip has been key in keeping me inspired and interested in eventually releasing these.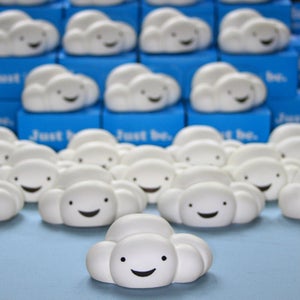 I'm going to swing by roto this week sometime (what day would be best for you guys, Kirby?) and see if they want to carry any in-store.

If anybody hasn't checked out the comic strip, you can enjoy Milo and all his friends there.
Milo The Cloud

Depending on how this (semi) open ended run sells, I'll likely be doing more of these with different characters. I'd really like to do a 'Lou, the cardinal' piece. I've learned a lot from doing it, and I think the next figure I produce will be a lot more smooth in terms of process.

Hope you enjoy these.